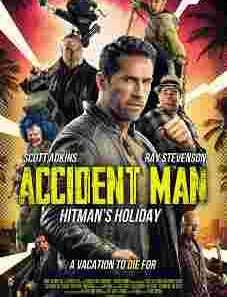 Title: Accident Man: Hitman's Holiday 2022
Ratings: 5.9/10
Runtime: 1h 36m
Genres: Action, Comedy, Crime
Director: George Kirby, Harry Kirby
Writer: Scott Adkins, Stu Small
Actor: Scott Adkins, Ray Stevenson, Perry Benson
Language: English
Description:
Just after events of the previous film, Mike Fallon takes a break in Malta in Accident Man: Hitman's Holiday. He's not that low, as he's returned to fabricating tragic accidents for a fee. With the exception of Wong Siu-ling, who is like Cato to his Inspector Clouseau, he has shunned most human interaction. That changes when he runs across Finicky Fred, the only one of his pals he didn't murder in the last film. He instantly resumes his role as Q to Mike's James Bond, concocting absurd methods to murder without raising suspicion. For streaming movies, signup or registration is not compulsory on the
Afdah
website.
---
Review of the movie Accident Man: Hitman's Holiday 2022.
Accident Man: Hitman's Holiday marks Scott Adkins' return to the big screen. This action-packed, humorous adventure is a follow-up to the 2018 cult classic, Accident Man. While the tale continues where the original left off, with Mike Fallon exiled from the United Kingdom, it is easily a stand-alone project.