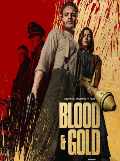 Title: Blood & Gold 2023
Ratings: 6.6/10
Runtime: 1h 40m
Genres: Action, Drama, War
Director: Peter Thorwarth
Writer: Stefan Barth
Actor: Robert Maaser, Jördis Triebel, Alexander Scheer
Language: English
Description:
Heinrich is a lowly soldier in a small platoon. It is set to be executed for deserting because he is repulsed by the behaviour of his side and only wants to return home and find his child. Contrary to the brutal efficiency of the German stereotype, the soldiers just drive away and leave him to die rather than completing the task. Elsa, the brave farmer's daughter who is defending both her house and her brother Paule, cuts him down from the tree. Paule suffers from an unidentified learning problem, but Elsa has prevented the Nazis from sending him to the extermination camps like so many other "defective" people were. If you're always searching on the internet to watch movies at free time, then visit
Afdah
website for smooth streaming.
---