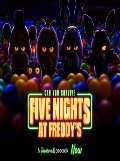 Title: Five Nights at Freddy's 2023
Ratings: 6.1/10
Runtime: 1h 50m
Genres: Horror, Mystery, Thriller
Director: Emma Tammi
Writer: Scott Cawthon, Seth Cuddeback, Emma Tammi
Actor: Josh Hutcherson, Piper Rubio, Elizabeth Lail
Language: English
Description:
In the game, a nighttime security guard is employed by an abandoned family amusement park and Chuck-E-Cheese-style restaurant. The guard quickly discovers that the outdated animatronics—which used to play music while the kids ate their pizza—are still functional and, even worse, rather lethal. The plot is the same in the movie, but it has been greatly expanded. We follow Mike, a young adult who works as a security guard in an effort to provide for his younger sister Abby, and himself. He is looking for work after losing his job at the mall and finds an opening to work overnight at the long-closed Freddy Fazbear's Pizza. It is the greatest websites for HD movie streaming on
Afdah
. Select your favorite movie for a fun family movie night.