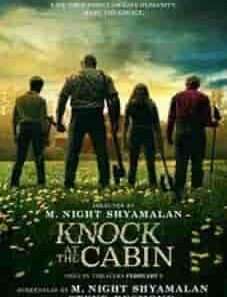 Title: Knock at the Cabin 2023
Ratings: 6.4/10
Runtime: 1h 40m
Genres: Horror, Mystery, Thriller
Director: M. Night Shyamalan
Writer: M. Night Shyamalan, Steve Desmond, Michael Sherman
Actor: Dave Bautista, Jonathan Groff, Rupert Grint
Language: English
Description:
The movie is based on Paul G. Tremblay's 2018 book "The Cabin at the End of the World". As a three-person unconventional family vacations in a secluded cabin deep in the Pennsylvanian woods. When Eric and Andrew take their adoptive daughter Wen on a much-needed getaway from the city, Leonard, Sabrina, Redmond, and Adriane—four armed strangers—interrupt them. Wen's initial unsettling meeting with Leonard quickly develops into a home invasion, during which Eric and Andrew are held captive. This mysterious group isn't truly out to harm our family's three members, though. Get new titles on the homepage of
Afdah
website on daily basis so that you can stay updated with the cinema.
---
Review of the movie Knock at the Cabin 2023.
The tension in the picture persisted pretty much from the very beginning to the very end. I had a genuine interest in the people and their tales and wondered how it would all turn out. Everyone in the film has fantastic acting, and "the parents" and Wynn truly made me think of a happy family because they seemed to get along so well.