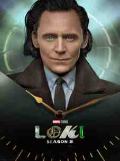 Title: Loki S02 E03
Ratings: 8.0/10
Runtime: 54m
Genres: Action, Adventure, Fantasy
Director: Kasra Farahani
Writer: Eric Martin, Kasra Farahani, Jason O'Leary
Actor: Tom Hiddleston, Sophia Di Martino, Owen Wilson
Language: English
Description:
In the third episode, "1893," Loki and Mobius go back in time to locate Renslayer and Victor Timely, a different version of Kang, who is believed to have the key to unlocking the Temporal Loom and bringing harmony back to the multiverse. Renslayer and Miss Minutes, an AI that helps the TVA, arrive in Chicago in 1868 at the start of the episode. They are implementing a backup plan provided by He Who Remains, who also gave them instructions on how to establish and manage the TVA. They give the manual to Victor Timely, a young child who turns out to be a Kang variant. He was designated as He Who Remains' heir in the event of his demise. Best website for enjoying movies and episodes of TV series on
Afdah info
having an extensive collection of content.
2023, Action, Adventure, Afdah Tv Shows, Fantasy