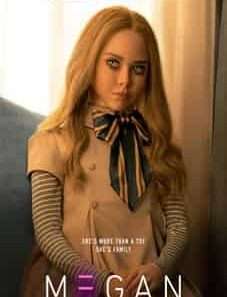 Title: M3GAN 2023
Ratings: 6.1/10
Runtime: 1h 42m
Genres: Horror, Sci-fi, Thriller
Director: Gerard Johnstone
Writer: Akela Cooper, James Wan
Actor: Allison Williams, Violet McGraw, Jenna Davis
Language: English
Description:
The lifelike doll M3GAN, an ai powered marvel. It is made to be a child's and parent's best friend. Smart roboticist Gemma, who works for a toy company, developed M3GAN. A robot that can observe, listen and learn while serving as a friend and teacher to the child to whom she is attached. When Gemma unexpectedly decides to adopt her 8-year-old orphaned niece Cady, she is bewildered and ill-equipped to be a parent. Under great pressure at work, Gemma decides to link her M3GAN prototype with Cady in an attempt to overcome both problems. Enjoy trending movies and Tv shows via
Afdah 2013
collections with no cost.
---
Review of the movie M3GAN 2023.
James Wann has returned with a new hit following Malignant. To be completely honest, I had no idea this movie would be as good as it is and exceeded my expectations. There is a new horror killer.