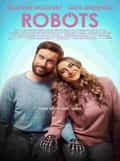 Title: Robots 2023
Ratings: 5.2/10
Runtime: 1h 33m
Genres: Comedy, Romance, Sci-fi
Director: Casper Christensen, Anthony Hines
Writer: Robert Sheckley, Anthony Hines, Casper Christensen
Actor: Shailene Woodley, Jack Whitehall, Paul Rust
Language: English
Description:
Although not being particularly innovative or creative, this science fiction comedy nonetheless manages to offer a passably enjoyable experience if you have nothing better to do. Although Jack Whitehall's acting abilities are weak, his puppy eyes provide a charming aspect to the movie. Elaine and Charles, a womaniser, are at the centre of the narrative. When they are unexpectedly compelled to work together and pursue robot versions of themselves, their paths cross. They start to get to know one another better thanks to this unexpected alliance. With a smooth interface, you can browse
Afdah2
with an easy way to enjoy new movies.
---
Review of the movie Robots 2023.
It combines science fiction, satire, comedy, and romance. There are some thought-provoking moments as well as fantastic comedy. In the end, the movie comes to a satisfying conclusion.