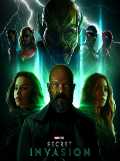 Title: Secret Invasion S01 E04
Ratings: 7.7/10
Runtime: 36m
Genres: Action, Adventure, Drama
Director: Ali Selim
Writer: Kyle Bradstreet, Brian Tucker, Jonathan Hirschbein
Actor: Samuel L. Jackson, Ben Mendelsohn, Cobie Smulders
Language: English
Description:
There have been many questions regarding whether Rhodey is a Skrull or not, but Episode 4 addressed all of them. Another bombshell from the "Beloved" episode confirms the fans' assumptions about Rhodey's identity. It turns out that he is not who we thought he was these last few years; rather, a Skrull assumed his entire identity in order to obtain highly sensitive knowledge about US plans and later undermine them for their own gain. In addition to all of this, Skrull Rhodey has some revelations and raises even more questions. Enjoy
Afdah movies
and new episodes of Tv shows with your mates.
---