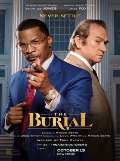 Title: The Burial 2023
Ratings: 7.1/10
Runtime: 2h 6m
Genres: Drama
Director: Maggie Betts
Writer: Doug Wright, Maggie Betts, Jonathan Harr
Actor: Jamie Foxx, Tommy Lee Jones, Jurnee Smollett
Language: English
Description:
The Burial, which is based on a New Yorker piece about a real David and Goliath story, stars Jones as Jeremiah O' Keefe, a former war hero who is now the owner of a Mississippi funeral home. His rising debts have him looking for a way out. Jeremiah wants to keep the company going so he may leave something to his 13 children, but his wife is more worried about the current problems. Jeremiah turns to his longtime lawyer acquaintance, who convinces him to make a deal with the Loewen Group, a major funeral home corporation, that will resolve a lot of his issues. Jeremiah, however, is taken advantage of by Hal and the bullying corporation. As a young, aspiring lawyer, he is persuaded to work with Willie E. Gary, a bombastic personal injury lawyer who is extremely wealthy. Enjoy one of the best and largest streaming libraries on
Afdah free movies
and Tv shows for free in HD Quality.