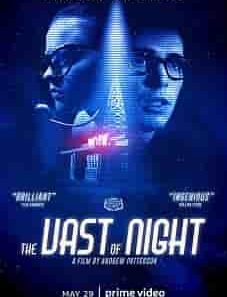 Title: The Vast of Night 2020
Release Date: 14 April 2020
IMDB Rating: 6.7/10
Runtime: 1h 27min
Genres: Drama, Mystery, Sci-Fi
Director: Gerard Roxburgh
Writer: Andrew Patterson, Craig W. Sanger
Actor: Sierra McCormick, Jake Horowitz, Gail Cronauer
Language: English
Description:
The events unfold in the late 1950s in the state of New Mexico around radio host Everett and night switchboard operator Fay. One day Fay discovers a mysterious signal that can cause a complete shutdown of the communication system without interruption of phone calls and other mysterious events. Pretty frightened Fay turns to Everett for help but he is skeptical from the very beginning of the girl's hysterical stories, but over time he realizes the complexity of the situation. By scrutinizing the strange signal, Everett and Fay will be able not only to change the course of small-town life but also their future.