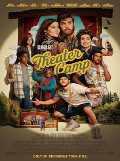 Title: Theater Camp 2023
Ratings: 7.1/10
Runtime: 1h 32m
Genres: Comedy
Director: Molly Gordon, Nick Lieberman
Writer: Noah Galvin, Molly Gordon, Nick Lieberman
Actor: Ben Platt, Molly Gordon, Noah Galvin
Language: English
Description:
When the founder of a rundown theatre camp in upstate New York is admitted to the hospital just a few weeks before camp begins, chaos ensues. The camp is in danger of going bankrupt, and the owner's bro-y son, Troy, enters a minefield when it comes to large corporations attempting to steal the land and the bank attempting to foreclose on the camp. Amos, Rebecca Dianne, Clive, Gigi, Rita, and Janet are all more concerned with the children and the theatre they are working on, as well as their own interpersonal issues,than rescuing the camp, so he finds little assistance from them. Browse
Afdah
for latest films and tv shows online for free in Hd Quality with out any subscription charges.